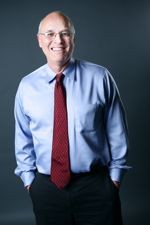 Pastor Mike Ramsdell has been the Senior Pastor of First Methodist Church for 18 years, having led it during a season of great growth. First Methodist has become one of the top 25 attended Methodist churches in the nation during those years. He represents the Methodist Church as a member of The Leading Edge, a group of pastors selected to help strengthen the Methodist denomination. He also recently led a task force that restructured the leadership and organization of the Central Texas Conference. He serves on the Board of Ordained Ministry, the District Committee on Ministry and the Advisory Board at Mansfield Methodist Medical Center. He recently began acting as a Church Coach for the Healthy Church Initiative. He has also served as Chair of the Division of Elders and Chair of the Church Growth Commission.

Pastor Mike has been a United Methodist pastor for 34 years. He grew up in an Air Force family living all over the country and the world. Following high school, he spent six years in the Navy. It was while in the Navy that Mike encountered Jesus Christ and began the Christian adventure. While stationed in Key West, he met and married Rhonda. They have three children ― Julie, Michael and Kelly. They also celebrate with eight grandchildren. He is a graduate of Central Bible College in Springfield, Missouri, and received his Master of Divinity from Brite Divinity School. Mike has an identical twin brother who is also a Methodist pastor, leading First Methodist Waco.

Mike focuses on biblical faith, preaching, helping people become full disciples of Jesus Christ, leading in pastoral care, connecting the church family with worldwide mission and encouraging the church family to engage the community it is in ― changing lives, growing the church and building the community. In recent years, this has taken the form of a campaign themed God Is Big Enough. This simple campaign has impacted hundreds of thousands of people. And more recently a new vision has arisen, In the City for the City, the idea that First Methodist Church is called to partner with other churches, city and school leaders to build, transform and shape the community we live in. Mike's greatest gift may be leading the church into the new vision God is always calling his people to, helping create a church that is not just about maintaining success but about its mission, today writing the next chapter of an already great story. If you want to know more, check out Pastor Mike's blog, www.mikeramsdell.com.

Mike loves spending time with his family and especially his grandchildren. He enjoys an occasional movie, health and fitness, time in the gym, as well as running, having recently run a half marathon. He still occasionally enjoys a game of basketball. He is a longtime owner of a touring motorcycle and loves going with his family to the beach when he can.